"Here's the 0-1. This is going to be a tough play. Bryant! The Cubs! Win the World Series! Bryant makes the play! It's over! And the Cubs have finally won it all! 8-7 in 10."
I didn't fall in love with baseball until I moved to Chicago in 2015 but the love affair started at a much earlier age. One of my earliest movie memories was watching Kevin Costner build his Field of Dreams. There is a romanticism to baseball. It woos you not with its rules or stats but with its history, what it stands for and how it brings people together.
Since moving to the States I have tried to get involved with the sport in a number of ways. I watch almost every Cubs game, I have started playing fantasy baseball and I can't wait for my kids to start playing T-ball. But I will never get to play myself. Not really.
One way I have been making up for that is by playing SIE San Diego Studio's "MLB The Show" franchise. I started in 2015 and have been playing it ever since. Buying the latest version has been my annual birthday present to myself and I love it every time.
Here is today's line up
There are 3 main games modes; Road to the Show (RTTS), Franchise and Diamond Dynasty (DD). All three give you the opportunity in some way to live out your baseball fantasies. RTTS allows you to create a character and be drafted to a team. You start in the minors and work your way up to the majors with an end goal of being inducted to the Hall of Fame. Does it get better than that?
Franchise allows you take on the role of Manager. You pick the lineup, you trade the players and you draft the next generation for whatever team you choose to lead. Not happy with how the computer determines who wins or loses? Well, you can take control of a single player or the entire team and those wins and losses will be on you.
DD allows you to create your own team centered on collecting and trading electronic Topps baseball cards. With your team you can play in various game modes both on and offline, providing you with new cards, or various types of points that you can then use to purchase packs.
Fly ball to left field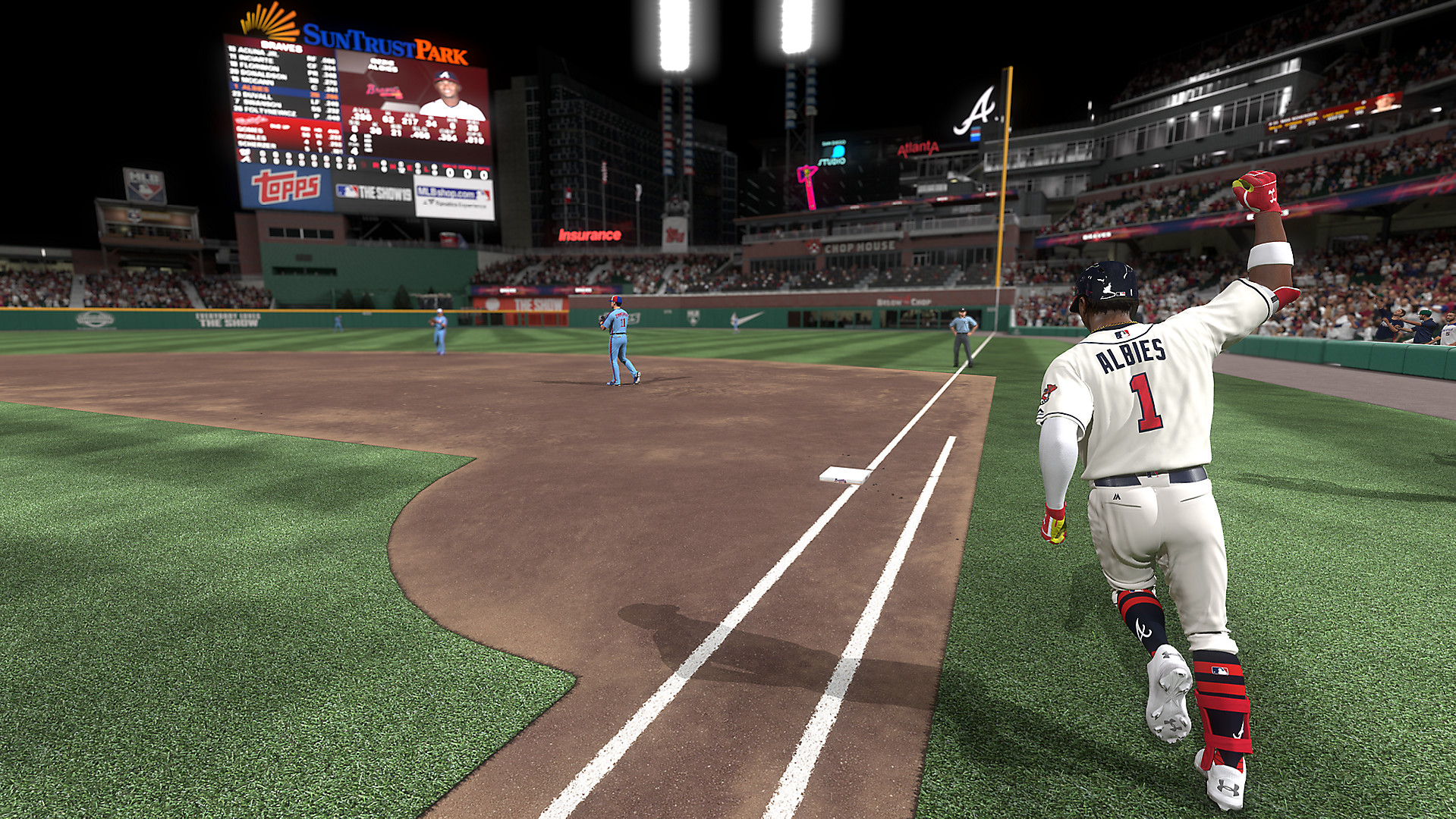 In previous years I have primarily focused on RTTS and franchise modes but decided to give DD a proper shot in 2019 and I have not been disappointed. I collected (American) football cards as a kid and the need-to-get-them-all attitude I had then has certainly been reignited, primarily because the cards end up doing and meaning more than just a piece of cardboard.
Each card means a new player can be added to my team, who will then compete in the various game modes. But do I have someone better? Do I want someone with higher fielding stats or do I want a slugger? There are lots of options and subjective preferences, which makes this a very personal affair. There is even a creative side as the player can design their own uniforms for both home and away games.
Play ball!
I have only had the chance to play the offline game modes but I have been having a lot of fun with them. The 2 main options are Conquest and Moments.
Conquest has various maps made up of hexagonal blocks that can be filled with your or other teams' "fans". Each team has a particular block that represents their home base. The aim of the game is to attack other blocks to take them over using your "fans". When attacking a block you will play a 3 inning game. How hard that game will be is determined by the number of attacking and defending fans on their respective blocks. The greater your advantage in fan numbers, the easier difficulty you can play on. Taking over the entire map will give the player lots of points and plenty of high ranking cards.
Moments is a new addition to DD this year and allows the player to play some of the greatest moments in baseball history. There is an entire section on Babe Ruth and one on the 2016 Cubs. The challenges are hard but the rewards great. And, frankly, who doesn't want to recreate the moment the Cubs ended a 108 year world series drought? Just Cubs fans? Nah.
Online matches are definitely on my list as soon as I can get myself online properly. Online game modes allow you join leagues with your team, play in a battle royale mode (where you effectively do a draft from random cards prior to starting) and also play games for fun with your friends or a stranger.
Extra innings
I grew up on (American) football so I played a lot of Madden in my youth. Creating a player was always fun but I never felt that I was really part of the action. I never felt that my personal skills were being put to the test or that I was part of a team. MLB The Show betters Madden for that experience by leaps and bounds.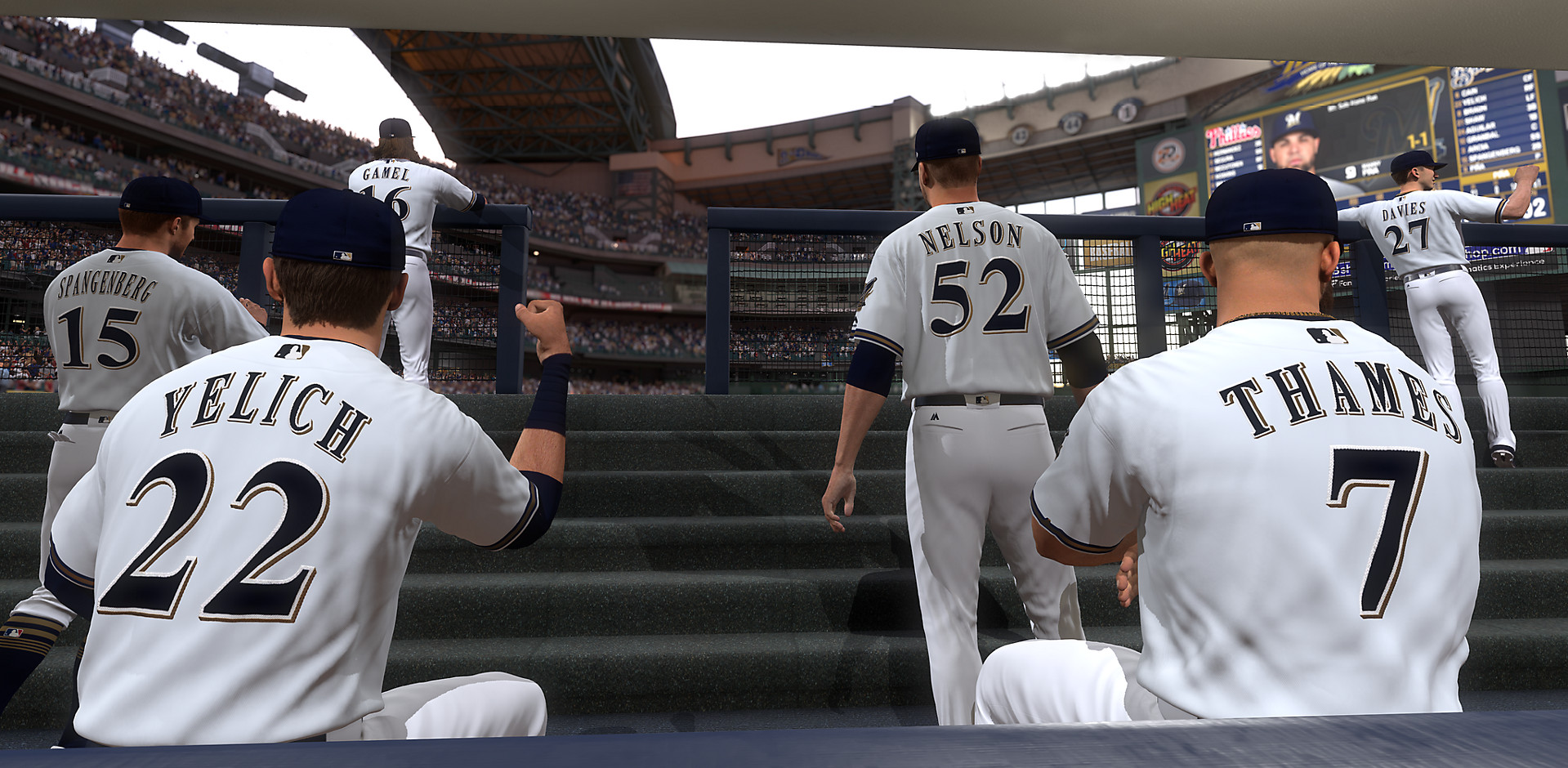 Whether my player does well or not is down to me. Am I swinging at junk in the dirt? Did I try to steal a base I shouldn't have? that is all on me. But it also reminds me that I am playing a team sport and that I cannot control everything. I can be 4 for 4 with a home run, a double and 3 RBIs, but I could still easily lose if the rest of the team is not playing well or the other team just happens to play better. And that has happened a lot. The game makes you feel that you part of it and that is a good thing.
There are still some issues that mean this game is not perfect but nothing ever is. And when you are talking about a game that looks to give a personal experience, then personal preferences and gripes will always come into play. So I won't give you mine. What matters is that these are so small, that I still come back to the game each year. Whether its summer ball or the off-season, I am still rounding the bases and heading for third. The replay value is immense.
This is a game for me. This is a game for baseball fans. Why? For love of the game.
The Standard edition of MLB The Show 2019 is available for download on the Playstation Network store for $59.99 or available on disc at your local games retailer and also on Amazon.